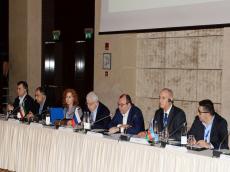 By  Azertac 
The 16th General Assembly of the Organization of Asia-Pacific News Agencies (OANA) has started in the Azerbaijani capital of Baku. The event is hosted by AZERTAC in partnership with the Heydar Aliyev Foundation.
The General Assembly was preceded by the 40th meeting of the OANA Executive Board. It heard reports from the president and secretary general of OANA, and the board also approved the agenda of the General Assembly and heard a financial report.
The meeting was followed by the first plenary session of the 16th General Assembly of OANA.
The General Assembly will feature two plenary sessions and the 41st Executive Board meeting. The events will hear reports from former and new presidents and secretaries general of OANA, reports of financial, technical and ethics committees. OANA members will also review organizational issues, and define the date and host of the next General Assembly and the 42nd Executive Board meeting.
The event will see AZERTAC assume presidency of OANA for the next three years, during which the agency will be responsible for managing the website of the organization and other organizational issues.
AZERTAC is one of the active members of OANA as the agency`s contribution to the organization`s website includes around 4,000 news, more than 700 video and over 1,600 photo items on a yearly basis.
An initiative of UNESCO, the Organization of Asia-Pacific News Agencies was founded in 1961 with the aim of expanding news exchange among regional news agencies. OANA`s members include 43 news agencies from 35 countries. At the 15th General Assembly held in Moscow in 2013, AZERTAC was elected – by secret ballot – as president of the organization for 2016-2019.