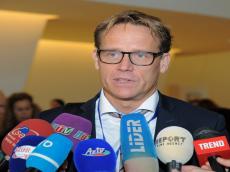 By  Azertac 
The Baku Congress creates vast opportunity to discuss the tasks and goals the news agencies face and to discuss prospects for development of media.
This was stated by Jonas Olof Eriksson, a participant of the 5th Congress of World News Agencies, 16th General Assembly of the Organization of Asia-Pacific News Agencies (OANA) and the president of the European Alliance of News Agencies (EANA), as well as the Swedish TT News Agency.
He said the Congress plays an important role in terms of the present and future of media.
Highly estimating the organization of the Congress, J. Eriksson noted that the main task of the media was delivering accurate and unbiased news.
"The Congress can make a significant contribution to the development of opportunities for news agencies delivering more objective and accurate news in future," he added.