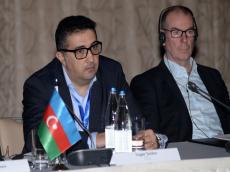 By  Azertac 
Azertac has taken over the presidency of the Organization of Asia-Pacific News Agencies (OANA) from Russian TASS agency.
Aslan Aslanov, Azertac Director General assumed the three year presidency of OANA at the organization`s 16th General Assembly in Baku.
The organization also elected new members of the Executive Board.
Azertac became a member of OANA in September, 2004. The agency was elected as a member of the OANA Executive Board at the organization's 13th General Assembly in the Indonesian capital of Jakarta on December 12, 2007.
At the 15th General Assembly held in Moscow in 2013, Azertac Director General Aslan Aslanov was elected as one of OANA`s vice presidents. In Moscow, Azertac was also elected – by secret ballot – as president of the organization for 2016-2019.
An initiative of UNESCO, the Organization of Asia-Pacific News Agencies was founded in 1961 with the aim of expanding news exchange among regional news agencies. OANA`s members include 43 news agencies from 35 countries.