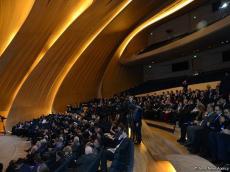 By  Trend
The 5th News Agencies World Congress is a very interesting and important event, Juan Maria Calvo Roy, director for international relations at Spain's Agencia EFE S.A., told Trend.
He participated in the congress that kicked off in Baku Nov. 16.
"Here we talk about our future, discuss our problems and try to find better solutions," Juan Calvo said.
"If we do the right things, we will survive," he added.
Apart from that, Juan Calvo said this congress is important for the host country, because a lot of people will come to Azerbaijan and see this beautiful country.
Azerbaijan is hosting the 5th News Agencies World Congress, the 16th General Assembly of the Organization of Asia-Pacific News Agencies (OANA) and the 22nd Session of the Council of CIS Heads of News Agencies.
Azerbaijan is represented in the events by Trend and AzerTAc news agencies.
Co-organized by the Heydar Aliyev Foundation and Azerbaijan's state news agency AzerTAc, these events bring together heads and officials of about 100 news agencies, international media experts, and officials from UNESCO and regional media organizations.
Speakers in the sessions include presidents of the News Agencies World Congress, OANA, EANA, FANA, managers of Associated Press, Reuters, Xinhua, Anadolu Agency, TASS, Agence France-Press, Press Association, EFE, Yonhap, Kyodo News, TT, SPA, BTA, AAP, IRNA, DPA, Notimex, ATPE and other leading news agencies, Los Angeles Times newspaper, Al Arabiya TV channel, and experts from Tripod Advisors, News Corp, PwC, Axel Springer and Stibo Accelerator media companies.
Initiated by the Russian news agency TASS, the 1st News Agencies World Congress was held in Moscow on Sept. 24-25, 2004.