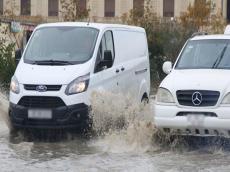 By Azernews
By Laman Ismayilova
Heavy rain saturated the capital city, temporarily closing several roads, stranding motorists and forcing some to wait for busses for a long time.
"The unstable weather mainly caused certain challenges on the road in Binagadi district," Azeravtoyol press service told Trend. "This road floods each time when it rains. The same difficulties are eseen near the refueling "Khagani petrol" at the Ziya Bunyadov Avenue, Khatai and  Neftchiler avenues."
Besides, Azeravtoyol, the staff of EMERCOM and Azersu JSC have been involved elimination of consequences of the heavy rains.
Azeravtoyol announced that it has intensified supervision of roads in Baku and Absheron.
The intermittent rain is expected in Baku and Absheron peninsula on October 18. Strong north-west wind will be followed with north-east wind in the afternoon.
The temperature is expected +6-8?C at night, +9-12?C the afternoon in Absheron peninsula, and +6-8?C at night, +8-10 ?C in the afternoon Baku. Air pressure records 775. 
Relative humidity will be around 85-95%
Sleet and snow is predicted in mountainous areas and highlands.
East wind will blow and intensify in some places. The temperature will be +6-9?C at night, +9-14?C in the daytime, -3+2?C  in mountainous areas, +3-8?C in the daytime.