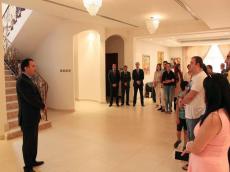 By  Azertac 
A Sunday pre-school education institution has opened under Azerbaijan`s Embassy in Abu Dhabi, the UAE.
At the opening ceremony, ambassador Dashgin Shikarov highlighted national leader Heydar Aliyev`s strategy to preserve Azerbaijani language. He said President Ilham Aliyev successfully continues this policy.
Organizer of the school, the ambassador`s wife Ulviyya Shikarova said the school is of vital importance for Azerbaijanis living and working in Abu-Dhabi. She said the school will focus on educating children about the rich legacy of national leader Heydar Aliyev, the activities of the Heydar Aliyev Foundation, which is headed by Mehriban Aliyeva, as well as the Armenia-Azerbaijan Nagorno-Karabakh conflict.