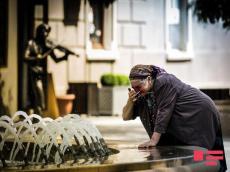 By  Trend
By Amina Nazarli

Azerbaijan is going through the hottest month of the past 11 years, as sweltering weather is set to sweep across the country.
Head of the ANAS Geography Institute Maharram Hasanov claimed that this August is the hottest recorded in the country since August 2006.
The expert said that the current air temperature breaks the previous record temperatures fixed in Azerbaijan in August 1992 and 2006. However, he added that in those years weather was not as hot as this year. "This August is distinguished with highest temperature s," he emphasized.    
The studies covering period from 1991 to 2012 showed that the temperature throughout Azerbaijan increased by 0.5-0.6 C, while precipitation decreased by 15-89 mm.
Hasanov noted that this August also records prolonged hot weather. "This year hot periods of summer have been prolonged. In previous years, the hot days lasted only for 2-3 days, but this summer, starting from August 15 the temperature is very high and the heat still continues," he said.
The continuation of the dry and hot weather for about 10 days is an unexpected phenomenon, according to the expert.
Azerbaijan experiences terrible heat starting mid-August and the mercury did not drop below 36-37C. Sizzling temperatures reached 40-42C during afternoons, thus, virtually beating 2015 for the dubious distinction of the hottest year on record.
Even mountains regions of the country, which are usually cooler, also witnessed hot days. In Sheki , a northwestern region of the country, the temperature hits  36-37C. 
Meanwhile, sunny weather expected in Baku and Absheron peninsula on August 26. The temperature in Absheron will stand at 32-37C in the afternoon and 21-25 at night, while in Baku the temperature will be 33-35C during a day and 22-24 at night.

The sea water temperature on the beaches will vary from 25-29C. The regions of the country will see the temperature up to 39 degrees.
Fortunately, starting from August 26-27, the temperature is expected to decline, according to the head of the Institute.
Earlier, American space agency NASA reported that Earth just broiled to its hottest month in recorded history, as July 2016 was the hottest month in the world for over the past 136 years, or 0.84 degrees Celsius warmer than the 1950-1980 global average.
July is typically the planet's hottest month of the year due to the fact that the Northern Hemisphere has more land area than the Southern Hemisphere, making Northern Hemisphere summer the warmest month.