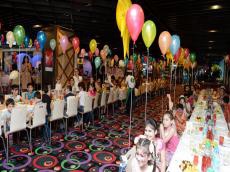 Another festivity was arranged for inhabitants of children's homes and the Rehabilitation Centre for People with Down Syndrome, initiated by the Heydar Aliyev Foundation.
A true festival environment had been created for children at the event. Children performed different dances, songs, and showed their skills.
Each child was presented a gift from the Heydar Aliyev Foundation.
Smiles on the faces of about 200 children participating in the festivity were the highest appreciation of the Heydar Aliyev Foundation's activity, which bestowed another joyful day upon them.
Entertaining themselves with infinite joy and sincerity characteristic of a child, inhabitants of children's homes and children in need of special care participated in various games, swam in a pool on this hot summer day, and shared their joy with those surrounding them.
The Heydar Aliyev Foundation successfully implements many projects in developing of childcare institutions' infrastructure, as well as addressing local problems in various parts of the country, and assisting to the vulnerable groups of population.
The Foundation has provided funding for the reconstruction of orphanages and boarding schools throughout the country, implemented various projects for their students, and built new schools.
The Foundation is frequently holding festivities for children from various orphanages in Baku, and Rehabilitation Center for People with Down Syndrome.