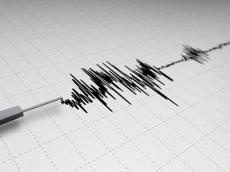 By Nigar Abbasova
As many as 257 earthquake shocks have been registered in Azerbaijan from May 25 to June 7.
Gurban Yetirmishli, director General of the Republican Center of Seismic Service of Azerbaijan National Academy of Sciences (ANAS) said that the majority of tremors occurred in the country was feeble. "Magnitude of tremors ranged from 0.5 to 1.5 and was not felt. Certain number of the tremors occurred on the background level. Tremors have been registered in all zones," Day.az quoted him as saying.
The head of Center has also mentioned that currently the seismic activity is not observed in the country. The largest number of earthquakes occurred in the Caspian Sea, in the south-eastern part of Greater Caucasus, notably in Shamakhi, Ismayilli, in the northwest area in the cities of Zagatala, Sheki, Balaken district, in the southern part, particularly in Lankaran, Lerik as well as Dashkesen, Ganja and Ismayilli which are located in the Lesser Caucasus, he added.
Yetirmishli underlined that the stations of the Seismological Center are constantly holding supervisions over the seismic situation of the country.
Azerbaijan is situated in a seismic zone and therefore is considered to be a seismically active region. The country faced approximately 7,000 earthquakes with different magnitude in 2015. Shamakhi and Ismayill are considered to be the most seismically active zone in Azerbaijan in the terms of the number of earthquakes occurred. The list also includes Ganja and Talish regions.
The last serious earthquake in Baku was fixed on November 25, 2000, being the strongest after hitting the city back in 1842. Intensification of seismic processes was marked in 2014 when the most powerful earthquake with the magnitude of 6.0 hit Gabala district of the country.
Seismological Center of Azerbaijan is engaged in the interpretation of earthquakes recordings by the seismic stations of the republic and the determination of their kinematic and dynamic parameters. Being the only organization in CIS, where the seismological researches are conducted by a network of seismic stations operating via satellite communication the center operates as many as 35 seismic stations via satellite communication on the territory of the county.