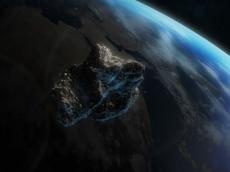 A massive asteroid is approaching the Earth.
Vaqif Khalilov, scientific secretary of the N.Tusi Shamakhi Astrophysical Observatory , told
APA
that the asteroid named Anti-Christ will pass by the Earth at a distance of 1 mln. km on June 8.
Vaqif Khalilov said the asteroid, which is 325 metres in lentgh and 60 metres in width, is far too unlikely to cause any potential threat to the Earth, adding that this object will pass by the earth at distance three times farther than the distance between the Earth and Moon.
This asteroid was first discovered by NASA scientists through cosmic apparatus in April 2014. On June 8, the asteroid will show up again, and its footages will be broadcast.