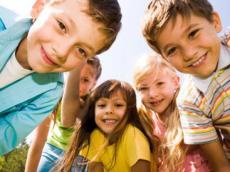 Source: AzerNews
It is so uplifting to look at a joyous crowd of children: one gets an impression that they live in their own, different and versatile world, and you can't help but even get a little disappointed that you're not as young and careless as they are.
Kids are the "flowers of life". This popular saying has become a part of our lives, and it accurately reflects the essence of children: they are beautiful, but at the same time they are fragile and delicate as flowers.
What happens when you pick a flower? It will wither and die. Therefore, children need our care, support and attention like nobody else.
International Children's Day is celebrated throughout the world annually on June 1. It was established in November 1949 in Paris by the decision of the Congress of the International Democratic Federation of Women. For the first time International Children's Day was marked in 1950.
Every year on the first day of summer numerous activities, including concerts for children, plays and other events take place.
Azerbaijan pays great attention to children's rights. There are about 20 laws governing the rights of children, a total of 40 clauses of the laws that regulate recreation, treatment, education of children, etc. in Azerbaijan. All the children in the country enjoy equal rights.
A lot of summer camps for children are being established in Azerbaijan as well. There is nothing like when you and your coevals spend a summer vacation by the sea, enjoying warm sunlight and bathing.
At the camps children can have the best time of their life playing educational games, doing sports, learning foreign languages?? with friends and, of course, singing songs around the campfire under the moon.
For children with limited abilities and orphans there are special facilities where they can get everything they need. The authorities are paying special attention to these children. A lot of colorful festivities and entertainment are organized for them.
The Heydar Aliyev Foundation and the Azerbaijani government are working closely with UNICEF and jointly develop various projects and reforms at the state level.
Azerbaijan also places a special emphasis on the effective education of gifted children and youth. Significant evidence of this policy is the decree of the President of Azerbaijan dated April 17, 2006 on the approval of the state program for 2006-2010 to develop the creative potential of gifted children.
Azerbaijan has a strong social institution of family, and the family is highly valued in society. A large family is appreciated even more, and such families are encouraged by the state.