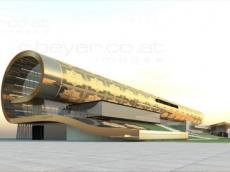 The world's largest carpet museum will be opened in Azerbaijan  on the eve of the Novruz Holiday.
The new building constructed on the joint project of  the Heydar Aliyev Foundation, Culture and Tourism Ministry  and UNESCO, is distinguished by its unique architectural style and form.  Modern equipment archive, store, laboratory, department of restoration and conservation will operate at the underground part of the building. The ground floor of the building will host an administrative and research area , the second floor - a library and research center for carpet weaving and sewing, the third - the meeting room and room for audio-visual presentations. The fourth floor is designed for exhibition halls and meetings.
The museum will also have rooms for the exhibition of jewelry and precious jewelry. The length of the building will be about 122 meters, width - 22.3, height - 18.5 meters. 
The museum also will play a significant role in attracting foreign tourists to Azerbaijan. Tourists will be able to legally buy refurbished ancient Azerbaijani carpets. 
The new museum, which is a synthesis of architectural styles of Europe and the East, will play a crucial role in familiarizing the world community with a rich cultural heritage of Azerbaijan.

Photos by SkyscraperCity Azerbaijan