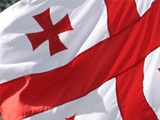 Forty-five percent of the population considers Georgia a democratic country and 39 percent believe that there is no democracy in Georgia.
The results of 7th opinion poll commissioned by the US-based non-governmental National Democratic Institute (NDI) were presented on Monday.
The percentage of people believing in a democracy in Georgia has risen, the results show. The figure perceiving democracy was only 39 percent in the March report.
Some 47 percent of respondents associate democracy with freedom of speech, media and freedom of opinion, 42 percent see democracy in just freedom, but 42 percent believe that democracy means equality before the law and justice.
NDI conducted a country-wide study Sept.9-21. In total, 2,425 people were questioned in Tbilisi, Kutaisi, Batumi, Poti, Rustavi and the 17th district of Telavi.
/
Trend
/