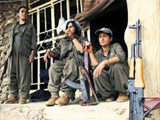 The Turkish security forces destroyed the largest separatists camps of the Kurdistan Workers Party (PKK) located in the Hakkari province on Oct.10, the Milliyet newspaper reported.
The security forces destroyed all ammunition, food and medical equipment of the PKK terrorists.
The Turkish Air Force's planes also bombed the camp. Terrorists were killed as a result.
Kurdistan Workers Party was set up at the end of the 1970s with the support of the Soviet Union. Despite the fact that originally it was known as a political party, since 1980s PKK members completed terrorist acts in the territory of Turkey against innocent civilians and military targets. Many countries see PKK as a terrorist organization. Its basic purpose is to create an independent Kurdish state on the southeast of Turkey, where Kurds predominantly live.
Turkey has recently initiated an active struggle against terrorism. The Turkish Air Forces threw blows at Kurdish rebel positions in northern Iraq.
/
Trend
/