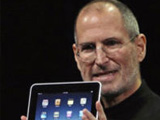 People from all over the world, including Iran, are mourning the death of Apple co-founder Steve Jobs, Radio Free Europe reported.
According to the radio's web-site, many Iranians have expressed sadness over Jobs' death on social-media sites by reposting a video with Persian subtitles of a famous speech given in 2005 at Stanford University, and sharing news stories and pictures of the Apple innovator.
Iranians are fond of Apple products, which reach them despite the sanctions the Islamic Republic is facing over its sensitive nuclear work.
Steve Jobs died on Thursday at age of 56.
Jobs founded Apple in 1976 with Steve Wozniak and Ronald Wayne. In 1985, he left there because of disagreements with the leaders of the corporation, returned in 1997 and became its CEO in 2000.
In August 2011, Jobs, who developed such unique products like the iPod and the iPhone, resigned as head of Apple after combating a rare form of cancer. CEO of the company was Tim Cook, replacing Jobs on 17 January 2011, when he went on sick leave. At the same time Jobs was elected chairman of the commitee of Apple's directors.
/
Trend
/