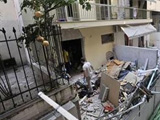 Greek police have launched an investigation to discover the source of weapons found after an explosion in the basement of an apartment building in the northern city of Thessaloniki late Tuesday night, as well as the identity of the blast's one victim.
Police officers at the site said early Wednesday that a coroner had determined the victim was a man aged between 30 and 35, but he his identity had not been confirmed. Later police discovered that the victim was a Turkish citizen of Kurdish origin.
Officials discussed the possibility that the victim was connected with the outlawed Kurdistan Workers' Party (PKK) and may have been planning to attack Turkish residents in Thessaloniki, as speculated in the Turkish media.
Following the explosion, anti-terrorism police, firefighters and police officers cordoned off the area, in a residential neighborhood near the center of the city. Explosives experts were searching the site to determine what caused the blast shortly before midnight Tuesday. The explosion in a basement apartment shattered windows in surrounding buildings.
Police found several weapons hidden inside a kitchen cellar, including an anti-tank missile, an AK-47 assault rifle, two submachine guns, two anti-personnel mines, 13 grenades and 600 rounds of various calibers of ammunition.
Hristos Papuchis, Greece's minister of public security, held a private meeting with police and Greek intelligence agencies to find out what caused the blast,and why the weapons were being stockpiled in the house.
/World Bulletin/