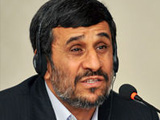 The Iranian nation has a capacity to govern the world instead of West countries, Iranian President Mahmoud Ahmadinejad said during a visit to Hamadan, Iran.
"Enemies are aware of Iranian' power and capacity and this frighten them," IRNA quoted Ahmadinejad.
"Iranians are the only nation that has enough capacity, braveness and ability to manage the world and change the West countries' unfair and selfish policy with a just and kind management," he said.
/
Trend
/