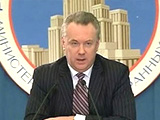 Russian Foreign Ministry spokesman, Alexander Lukashevich, says bolstering bilateral relations with Iran is part of the Kremlin's diplomatic strategy, Press TV reported.
"Maximum expansion of ties with the Islamic Republic [of Iran] is one of Russia's strategies," IRIB quoted the official as saying on Wednesday during his weekly news conference in Moscow.
He said Iran was a neighbor and friend of Russia and the two countries shared a long history of relations.
Lukashevich highlighted Moscow's determination to expend its relations with Tehran and mentioned Russia's assisting the launch of Iran's Bushehr nuclear power plant in the south of the country.
/
Trend
/