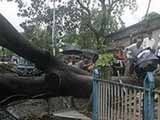 Storm severely hit central Turkish city of Sivas cause big material damage across the city. Many houses' roof fly and many trees removed from their roots. Torrential rains and storm hit Sivas and caused material damages and paralyzed traffic and daily life in entire city.
Meanwhile a tornado dismantled hundreds of the olive oil in Western Turkish city of Manisa's Akhisar district. Tornado, hit the district nearly 25 minutes caused serious damages in many gardens and fields.
On the other hand, cloudburst and torrential rain have been continuing since Friday. Some Turkish county also hit by the hail storm.
/World Bulletin/