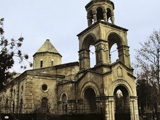 The Foundations Directorate General has turned over the property rights of a historical building in Istanbul's Topkapı neighborhood back to the Surp Nigoğoyos Armenian Church Foundation.
The church foundation's president expressed his satisfaction with the move, but many other buildings in Topkapı were yet to be reclaimed, according to the administration.
"I believe the laws passed by the Justice and Development Party [AKP, in 2008] concerning foundations are extremely useful. [But] I do not want to talk about either politics or anything else about the AKP," Monik Ergan, the church foundation's president, said.
Another historical building, the Selamet Inn in Karaköy in Beyoğlu, was also handed back to the Surp Pırgiç Armenian Hospital Foundation earlier in 2011 following a legal battle that lasted several years.
Unlike the Selamet Inn, however, the return of the building in Topkapı was accomplished without any legal hassle after the church foundation simply filed an appeal to the directorate general.
"Even the reclaimed buildings will not be sufficient to [help with the financial] upkeep of the school and the church," said Murat Çakan, the church foundation's second president.
The foundation is in desperate financial straits, Çakan said, adding that many documents listing foundation property had been found in the church archives.  
The foundation in Topkapı, a 195-year-old institution, operates the Levon Vartuhan Primary School in addition to the church, Ergan said.
Patriarch Mesrop II and other leading figures in the Armenian community had decided to close the school down, following an appeal by the foundation's former administration, but this decision was later overturned, said the church president.
Turkey's Greek community decided last month to close down the Iokimian School in the district of Fener, the Tatavla Boys' School in Sefa Square in the district of Şişli as well as the Private Arnavutköy Coed Greek School, which was founded in 1902. The historical schools will be transformed into cultural centers to provide new income for the community.
"The Greek community may have shut their schools down, but we are a community 60,000 strong," Ergan said, reiterating his opposition to closing their schools.
/Hurriyet Daily News/