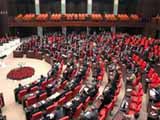 The candidate for deputy was killed 2 days before the elections, in Bitlis province, Turkey.
According to Turkish press, the dead body of Bedri Aydin nominated from Democratic Left Party was found in forest near Hizan settlement of Bitlis, on June 10. 32-aged Aydin's dead body was revealed by local residents and they informed the police about the incident. It was determined that, B. Aydin was shot dead by unknown persons. Investigation is underway on the fact.
Remind that, on June 12, parliamentary elections will be held in Turkey.
/
APA
/