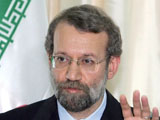 Iranian Parliament Speaker Ali Larijani has warned arrogant powers that their efforts to cause a split between Shia and Sunni Muslims are doomed to fail, Press TV reported with reference to Parliament news agency (ICANA).
"The enemy seeks to prevent Muslims from making further progress through plots," Larijani told.
The senior Iranian official added that the US and its allies would not succeed to obtain their objectives "because Muslims are awakened and will foil their conspiracies."
He pointed to the revolutions in Tunisia, Libya, Egypt, Yemen and Bahrain and said, "The movements indicate the Muslims' awakening because they seek to determine their own destiny and to free themselves from the yoke of dictators."
Larijani emphasized that efforts by arrogant powers to impede the current awakening in the region would not bear fruits.
The top Iranian parliamentarian stressed the importance of using great potentialities of Muslim countries to strengthen their unity, saying this would lead to a strong current in the world.
Larijani expressed Tehran supports popular uprisings in Yemen, Bahrain and Libya.
/
Trend
/