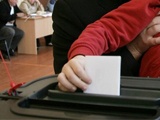 Tomorrow there will be held parliamentary elections in Turkey.
7695 candidates will compete for the deputy's mandate at the elections attended by 15 political parties. 7492 of the candidates are the representatives of political parties, other 203 join the elections independently. 50,189.930 voters will vote at 199207 polling stations on 85 constituencies. 2.568.977 voters in the foreign countries are voting at 25 customs check-points from May 10. 85 MPs on 3 constituencies from Istanbul, 31 MPs on 2 constituencies from Ankara and 16 MPs on 2 constituencies will be elected at the elections.
The elections start at 09.00 in accordance with Baku local time at 32 regions of Turkey. It will end at 18.00. But in other polling station the elections will be held between 10.00-19.00. The main struggle at the elections will take place between the ruling party AKP, Republican People's Party (CHP) and Nationalist Movement Party (MHP), as well as Peace and Democracy Party's (BDP) candidates, who are running as independents at the elections. Other parties are not expected to circumvent the 10% barrier.
/
APA
/