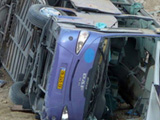 At least 10 people died and many others were injured in an accident involving a passenger bus early on Wednesday in Giresun province after the bus caught fire after the accident, the Anatolia news agency reported.
The driver of the bus, en route to Trabzon's Of district, reportedly lost control of the vehicle and crashed into a road sign near Giresun's Görele district. The speeding bus tumbled and burst into flames after its fuel tank caught on fire.
Quoting remarks from Görele Mayor Ertuğrul Melikoğlu, Anatolia said 29 passengers had been hospitalized and at least 10 people had died. Giresun Governor Dursun Ali Şahin said they fear the death toll may rise as many of those injured are in critical condition.
/World Bulletin/