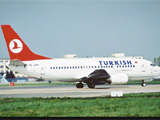 Turkey's national air carrier, the Turkish Airlines (THY), on Wednesday launched flights to Genoa city of Italy.
THY Press Consultancy Office said the round flights will take place on Wednesdays, Thursdays and Saturdays.
Istanbul-Genoa flights will rise to four times a week starting as of June 27, 2011, on Mondays, Wednesdays, Thursdays and Saturdays.
This will be the fifth destination of THY to Italy after Rome, Milan, Venice and Bologna.
The flights to Genoa will take place till December 31, 2011.
Based in Istanbul, Turkish Airlines is one of the fastest growing and prosperous airlines in the world. It carries approximately 25 million passengers a year.
The company was founded in 1933 with a fleet of five airplanes that carried a total of 28 passengers. THY made its first domestic flight in 1933 and the first international flight in 1947.
/World Bulletin/