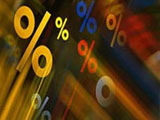 Turkish expectations for inflation rose in a fortnightly Central Bank survey, the Ankara-based Bank said in a statement Wednesday.
Inflation in 12 months time was expected at 6.93 percent compared with 6.88 percent two weeks ago, the Bank said on its website. Expectations for inflation in 24 months rose to 6.44 percent from 6.29 percent, the Bank said, citing its survey of economists and executives. The forecast for year-end inflation rose to 7.54 percent from 6.99 percent.
The increase follows a surge in May inflation, which accelerated to 7.2 percent from 4.3 percent a month earlier, the biggest jump since January 2002. The Central Bank says inflation will slow again this month.
The current-account deficit for 2011 will be $63.5 billion, compared with $61 billion in the previous survey. Forecasts for growth this year rose to 5.3 percent from 5.2 percent.
/Hurriyet Daily News/