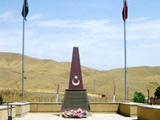 Turkey's ambassador and the Turkish military attaché in Baku have initiated work for the renovation of a Turkish cemetery in Shamakhi region of Azerbaijan, while Azerbaijani governorates have also been lending support to the renovation works.
Turkey's ambassador to the neighboring country Hulusi Kılıç and Baku Military Attaché Brig. Gen. Özhan Ayaş were informed by Security Counselor İsmail Çalışkan, the Anatolia news agency reported late on Sunday. Later, Ambassador Kılıç and the accompanying delegation planted trees at the Shamakhi Turkish Cemetery where a Turkish officer who fought under the Islamic Army of the Caucasus in the early 20th century is also buried.
Security Counselor Çalışkan told Anatolia that Gobustan Governorate, the Shamakhi Governorate, CSOs and charitable businessmen have been lending financial support to renovations. Last year, 3,000 trees were planted at the Shamakhi Turkish Cemetery through a campaign led by Ambassador Kılıç, Anatolia noted.
/World Bulletin/