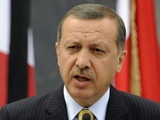 Turkey's prime minister has labeled the Minsk Group of the Organization for Security and Cooperation in Europe (OSCE) "useless," while he reiterated Ankara's well-known position that normalization of relations with Yerevan is tied to resolution of the Nagorno-Karabakh conflict.
To date the OSCE Minsk Group has failed to find a solution to the territorial conflict between neighboring Armenia and Azerbaijan, Prime Minister Recep Tayyip Erdoğan was quoted on Monday as saying in an interview with Azerbaijan's ANS TV.
The Minsk Group, the three co-chairs of which are from France, Russia and the US, has striven to resolve the Nagorno-Karabakh conflict for almost two decades.
The dispute may be solved, if Armenia and Azerbaijan make moves in a positive direction, Erdoğan said, adding: "Otherwise, I do not see any solution to this issue. Though the Minsk Group has been operating for about 20 years, it has failed to achieve any results. I wonder what the MG can do today, if it has failed during the past 20 years."
"Unless Azerbaijan and Armenia find a solution to the Karabakh problem, relations between Ankara and Yerevan will not be normalized," he said.
In a related development, Turkey's foreign minister expressed hope for an upcoming trilateral meeting of the presidents of Armenia, Azerbaijan and Russia that will be hosted in the Russian city of Kazan in late June.
Turkey hopes a breakthrough in the Nagorno-Karabakh conflict resolution will be achieved during the meeting between the Armenian, Azerbaijani and Russian presidents in Kazan, Turkish Foreign Minister Ahmet Davutoglu stated in an interview with ANS TV.
"The Nagorno-Karabakh issue is a focal point during each meeting between US, Russian and French officials. We will step up efforts to resolve the conflict. I am certain breakthroughs will be achieved at the presidents' meeting in Kazan.
The joint statement on Nagorno-Karabakh adopted within the framework of the G8 Summit led to encouraging prospects. We hope Armenia will realize that protracting the conflict resolution conflicts with its positions and that it will make the right choice in the earliest possible timeframe," Foreign Minister Davutoğlu was quoted as saying on Monday in an interview with ANS TV.
/World Bulletin/