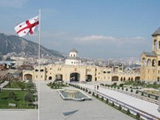 Identifying priorities and challenges facing the 'Information Society' in Eastern Europe and the South Caucasus is the subject of a conference taking place in Tbilisi, Georgia on 16-17 June, and co-organized by the EU-funded FP7 Program.
The conference aims to formulate a strategy for the development of ICT Research & Development in the region, and to better integrate the region in the wider European effort to promote the Information Society. To this end, the conference is targeted at leading researchers and experts from academia and industry as well as representatives of Ministries from Eastern Europe and the Caucasus.
Regional ICT research needs, capacities and priorities will be discussed, while concrete recommendations and actions for enhanced collaboration both within the region and with the rest of Europe will be identified. Furthermore, ideas for proposals for the ICT Call 8 under the FP7 will be presented and discussed.
FP7 runs from 2007 to 2013 with a total budget of around ˆ50 billion. Its main priority focuses on research directly relevant to the needs of European industry with a view to enhancing international European competitiveness and also to society to improve quality of life. FP7 is intended for research scientists, institutes & SMEs working together in international consortia.
/
APA
/