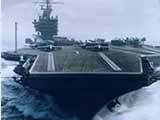 The Iranian Defense Ministry's naval industries have produced new military vessels, barges and tugboats, Press TV reported.
On Tuesday, 10 landing craft, barges and tugboats were delivered to customers and two landing craft were launched in the southern port cities of Bandar Abbas and Khorramshahr, IRNA reported.
Addressing the delivery and launching ceremony, Iranian Defense Minister Brigadier General Ahmad Vahidi hailed the move as the realization of the Islamic Republic's efforts to create job opportunities and achieving independence.
"These vessels were built upon orders from the private sector and in line with the development of sea transportation and bolstering the region's economy," Vahidi said.
Explaining the capabilities of the domestically-produced vessels, the minister said the landing craft's body and superstructure are made of naval steel and have the capability to load and unload in areas without a dock and at steep sand beaches.
Vahidi also said the tugboats have 1,200 horsepower engines, which enable them to tow various vessels, and carry out fire containment operations both at sea and at shore.
The 1,000-ton barges are mounted with motors and equipped with advanced navigation and radio facilities, adding that the vessels are capable of carrying 750 tons of load.
Iran's defense minister said the ministry is not only able to meet the armed forces' needs for surface and subsurface military vessels, but has been using its expertise and resources to boost the country's marine industry.
/
Trend
/