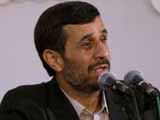 U.S. President Barack Obama is a "puppet" in the hands of those, who really stands behind the scenes of events occurring in the United States, Iranian President Mahmoud Ahmadinejad said in response to Obama's recent speech, the Javan Online newspaper reported.
"We know those who really stand behind the scenes of this scene, and we will inform the world about who they really are," Ahmadinejad said.
He stressed that Obama, expressing such a view, tries to look like 'the ruler of the world'. "However, a new scenario for the U.S. policy, announced by the U.S. President is not durable," Ahmadinejad said.
Obama delivered his address on Middle East and US policy in the region, at the State Department in Washington DC on May 19. However, he did not touch upon the issues relating to Iran.
Obama said the Syrian people have shown their courage in demanding a transition to democracy. President Assad now has a choice: he can lead that transition, or get out of the way. In his speech, Obama also mentioned that Syria is an ally of Iran.
"Thus far, Syria has followed its Iranian ally, seeking assistance from Tehran in the tactics of suppression. This speaks to the hypocrisy of the Iranian regime, which says it stands for the rights of protesters abroad, yet suppresses its people at home," he said.
"Our opposition to Iran's intolerance - as well as its illicit nuclear program, and its sponsorship of terror - is well known," he added.
Obama also mentioned Iran when he talked about Bahrain. "Bahrain is a long-standing partner, and we are committed to its security. We recognize that Iran has tried to take advantage of the turmoil there, and that the Bahraini government has a legitimate interest in the rule of law," he said.
/
Trend
/