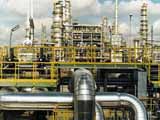 A fire occurred at Iran's Abadan oil refinery at a time of President Mahmoud Ahmadinejad's visit, the FARS news agency reported.
According to the agency, the fire caused an explosion. The fire has already been extinguished.
Ahmadinejad was not injured during the incident and continued his visit to the plant.
A dense cloud of combustion products formed over the plant. The fire affected 20 people.
The Mehr news agency reported that one person died as a result. All the victims are employees of the plant.
/
Trend
/