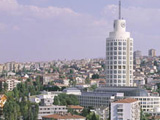 A new stadium in Turkey's capital city of Ankara will be open as of 2013, according to Yunus Akgül, the general manager of the Youth and Sports Directorate of Turkey.
"We did discuss the issue with [Prime Minister Recep Tayyip Erdoğan] and he approved the decision to erect a new stadium. The new stadium will be built at the site where the 19 Mayis Stadium now stands. We need to obtain certain permits for the construction of the new stadium, after which a tender will take place," Akgül said, adding that the new stadium was "no longer a dream," according to Anatolia news agency.
Akgül further said Erdoğan had promised the construction of a new stadium at an election rally held in Ankara.
The capital city's residents will have their new stadium ready in 2013, Akgül said.
/Hurriyet Daily News/