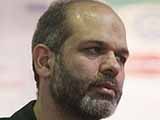 The Iranian commander announced the mass delivery of the Qiam (uprising) ballistic missile system to the Islamic Revolution Guards Corps (IRGC), Press TV reported.
"The mass production of the Qiam missile, the country's first missile sans stabilizer fins, shows the Islamic Republic of Iran's self-sufficiency in producing various types of missiles," IRNA quoted Defense Minister Brigadier General Ahmad Vahidi as saying on Sunday.
He added that Qiam's design reduces the possibility of being detected by enemy anti-missile systems and the omission of its fins has increased the missile's speed.
"The missile is able to hit its targets with high precision," he said.
Iran successfully test fired the Qiam surface-to-surface missile on August 20.
Qiam is part of a new generation of domestically-manufactured surface-to-surface missiles with liquid fuel.
In recent years, Iran has made great achievements in its defense sector and achieved self-sufficiency in producing essential military equipment and systems.
In January, Iran successfully test-fired mid-range, surface-to-air Hawk missile and the Iranian Defense Ministry delivered new cruise missile systems to the Navy.
The systems, designed and manufactured by Iranian experts, are capable of spotting and destroying different targets at sea.
The Navy has successfully test-fired a range of powerful missiles mounted with laser technology, which display high precision and have a range of 45 kilometers (28 miles) to 300 kilometers (186 miles).
/
Trend
/