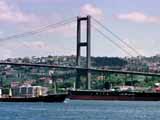 Turkey's commercial hub of Istanbul has shined out in foreign trade in January-March period of 2011.
Nearly 44.6 percent of Turkey's export activities, amounting to 14.04 billion USD, was conducted from Istanbul during the first three months of the year, according to the data released by Turkey's statistics authority, TurkStat.
As for imports, 28.9 billion USD or 51 percent of Turkey's imports were again conducted from Istanbul.
Import and export activities of a total of 6 Turkish provinces are above 1 billion USD, TurkStat also said.
These provinces are capital Ankara, northwestern provinces of Istanbul, Bursa and Kocaeli, Aegean city of Izmir and southeastern province of Gaziantep.
Nearly 77 percent of Turkey's exports and 86.6 percent of the country's imports were carried out by these provinces, the authority added.
/
Trend
/