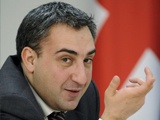 Georgia is interested in attracting investments from Singapore in the sphere of the construction of hydropower plant and oil refinery, Georgian Prime Minister Nika Gilauri who is on a visit to Singapore told Georgian reporters on Thursday.
"At present, it is a priority for us, as we intend to build an oil refinery. Also the construction of a hydropower plant is planned, the number of which will reach 11 units by 2015. We know that energy is also a priority for Singapore," he said.
"We want to see such large investment companies as Temasek and GIC in Georgia. They have many interesting investment projects which they implement in developing countries, and we want them to implement them in Georgia," Gilauri said.
He has already met with Singapore's President and Prime Minister, as well as representatives of local business circles.
/
Trend
/