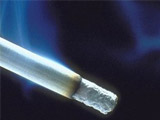 The number of smokers has dropped significantly in Turkey since the government imposed a ban on indoor smoking three years ago, data from the Ministry of Health have shown.
Turkey prohibited smoking on May 19, 2008, in workplaces and indoor public spaces. The ban was later extended to bars, cafés and restaurants in a move that brought laws in Turkey, one of the biggest tobacco consumers in the world, in line with legislation in Western Europe and North America.
Three years after the ban took effect, the rate of smoke addiction among men now stands at 40.7 percent, down from 47.9 percent, and 13.8 percent among women, down from 15.7 percent, according to a Ministry of Health study whose results were published by the Anatolia news agency on Wednesday.
The study was conducted among 8,342 people aged above 15 and compared data from 2008 and 2010. A similar study conducted in 2008 found that the overall addiction rate was 31.2 percent. Data from 2010 show this figure declined to 27.1 percent.
The rate of indoor exposure to smoke also went down from 38.5 percent to 14.9 percent, the data also showed. The rate of exposure to smoke fell from 55.9 percent to 13.9 in restaurants, from 16.5 percent to 10 percent on public transportation, and from 11.3 percent to 7.4 percent in public buildings.
There was only a slight drop in the number of those who believe smoking causes serious health problems, from 97.3 percent in 2008 to 96.2 in 2010, Cihan News Agency reported.
/World Bulletin/