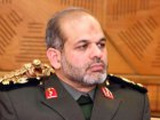 Iranian Defense Minister Brigadier General Ahmad Vahidi has rejected UN claims about the cooperation of Iran and North Korea in their missile programs, PRESS TV reported.
"We are completely self-sufficient in this field and nothing has been exchanged between us (Iran and North Korea) in this regard," Vahidi said on Wednesday.
On Friday, the UN claimed in a supposedly confidential report that "prohibited ballistic missile-related items are suspected to have been transported between the Democratic People's Republic of Korea and the Islamic Republic of Iran."
On Tuesday, Iran's Foreign Ministry Spokesman Ramin Mehmanparast dismissed the reports and stressed the country's self-sufficiency in the field of missile production and said Iran "doesn't need any outside technology."
The Iranian defense minister also announced that a number of Defense Ministry's projects would be unveiled next week, adding that "vessels, ballistic missiles and new weaponry" would be delivered to the armed forces.
In recent years, Iran has made important breakthroughs in its defense sector and attained self-sufficiency in producing important military equipment and systems.
In January, Iran successfully test-fired surface-to-air mid-range Hawk missile and the Iranian Defense Ministry delivered new naval cruise missile systems to the Navy.
The systems, designed and manufactured by Iranian experts, are capable of spotting and destroying different targets at sea.
In April Iran also successfully test-fired another air-defense missile system dubbed Sayyad-2 (Hunter II).
The newly tested system is an upgraded version of the Sayyad-1 system with higher precision, range and defensive power and will be unveiled in the near future.
/
Trend
/