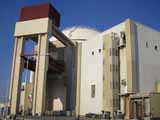 Russian Deputy Foreign Minister Sergei Ryabkov's statement regarding opening of Bushehr Nuclear Power Plant in the near future has again raised the question of safety of this plant.
Ryabkov said that the operations to inject fuel into the core of the reactor of the Bushehr Nuclear Power Plant have been completed and the plant will start working in the near weeks. Bushehr NPP, which is Iran's first and only nuclear power plant, will produce 1,000 megawatt power per year. Its construction was started by Germany in early 1970s and afterwards, was stopped and shifted to Russia in 1995.
The safety of the Bushehr nuclear power plant is Iran's first priority, so Iran has tried to observe all necessary safety precautions before launching the reactor, Iranian Foreign Minister Ali Akbar Salehi said.
Launching the station is considered the next success in the nuclear program, which is a priority for Ahmadinejad's government, and Iran tries to launch this plant as soon as possible, which has been postponed by Russia for more than ten years.
However, it needs to consider that the attack of Staxnet viruses at the computers of Iran's nuclear facilities have not been prevented completely, one of the cooling capsules in the reactor has blasted two months earlier and as a result, the fuel in the reactor has been taken out and injected again, as well as the building of the station has become decrepit.
In addition, although Iran is a member to IAEA, it has not signed Nuclear Safety Convention.
Given all these, the safety of Bushehr NPP is very important for Russia because the country needs an image in the nuclear reactor construction sphere in the world, and any problem in the Bushehr NPP can completely damage Russia's image in this market.
On the other hand, Russia has undertaken an obligation to operate the plant for a period of two years and gradually shift the plant to Iran's nuclear scientists. Currently Russia's 3,000 nuclear specialists operate at Bushehr NPP.
The agreement on Bushehr NPP signed between the two countries in 1995 does not contain any reliable subject to resolve the disagreements and problems between the sides. So, if any problems appear, Iran is unable to make any legal pressure on Russia and the problems between the two countries can be resolved only through negotiations.
/Head of
Trend
's Persian desk/