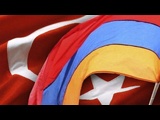 Istanbul University "Kadir Khas" received a grant worth $23,500 from the German Marshal fund to organize Armenian language courses, Armenian source reported. According to ANS PRESS, quoting New York Times, the courses will be launched this month.
"Kadir Khas" is a private university founded in 1997. Education center chairman of the university Serber Dinler said that the courses will be run by Armenian specialists. He added that this is a part of cultural step to restore relations between the two countries.
"Turkey is becoming a transit corridor for energy carriers and a political center in the region", Dinler said adding that the Turkish government set motto "zero problem with neighbors". He thinks that in modern time Turkey needs to establish a more active dialogue with neighbors and it can't be realized without language literacy.
/Vesti.az/