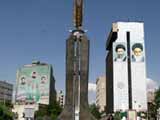 Another senior official of the Iranian Presidential Administration code-named "K" was arrested for active participation in creating a film "The Return Is Close", Iranian FARS news agency reported.
According to information, the arrested individual has been the former head of the Iranian Presidential Administration Isfandiar Rahim Mashai's close friend for 20 years. The FARS Agency didn't report the name of the detained.
In early May, Iran's Preachers Association head Abbas Amirifar was arrested due to his assistance to the film. Former head of the Iranian Presidential Administration Isfandiar Rahim Mashai appointed Amirifar as a member of the Council on Culture of the Presidential Administration in May last year, MEHR news agency reported.
A film "The Return Is Close" was demonstrated a few months ago. The film reflects signs of return of Imam Mehdi, who is regarded as the twelfth Imam of Shiites. Shiites believe that Imam Mehdi (born in 868) is living a secret life as the God wants and one day he will return to ensure justice in the world.
Iranian spiritual leader Ayatollah Ali Khamenei was identified as the incarnation of Sayyid Khurasani, while President Mahmoud Ahmadinejad as the incarnation of Shuaib bin Saleh. Shiites believe that these two individuals will help Imam Mehdi to save the world from oppression and violence. Many influential religious figures in Iran, including Ayatollah Makarim Shirazi, have expressed strong protest against the film and its demonstration.
Last month, Mashai was dismissed from the office. Though Mashai, who is father of Ahmadinejad's daughter-in-law, was appointed in 2009 as vice-president, the spiritual leader Ayatollah Khamenei interfered in this appointment. Many MPs, religious leaders and Islamic Revolutionary Guard Corps repeatedly warned Mashai in connection with the distortion of religion.
Many media outlets, close to Iran's ruling conservatives' camp, state that a film about Imam Mehdi has been funded by Mashai. Mashai has not expressed his opinion in this regard yet.
/
Trend
/