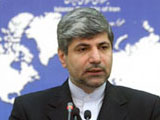 Talking to reporters during his weekly press briefing, Mehmanparast said Iran enjoys the technical knowledge on this issue and there is no need to gain related experiences from other states.
A classified United Nations report released last week says North Korea and Iran have routinely shared ballistic missile technology in violation of U.N. sanctions, and diplomats say China has sought to block release of the report, Voice of America reported.
The document, seen by Western journalists, says the illicit technology transfers passed through a neighboring third country, which diplomats identify as China, North Korea's closest ally. Beijing has not commented on the report, which also includes accusations the technology was transferred aboard regular air flights of Air Koryo and Iran Air - North Korea's and Iran's national airlines.
/
Trend
/