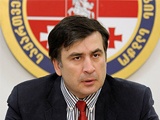 Georgian President Mikheil Saakashvili said the Georgian Agriculture Ministry is declaring a form of "martial law." A so-called military headquarters will be established under the ministry to get the Agriculture Ministry out of the middle Ages and into the 21st century, he said.
"This is, of course, is a joke, but we are creating a headquarters that will do everything to achieve this goal," he said during a visit to the ministry.
Saakashvili got acquainted with the ministry's plans and projects to boost agriculture. He also mulled projects to increase grain and corn production with Minister Bakur Kvezereli.
He stressed that such meetings will be regular and the government will work "around the clock" to deal with agrarian problems.
"It is a foremost issue for us, as we cannot feed people without fixing our agricultural system," Saakashvili added.
The new structure should ensure the agricultural sector's improvement and ensure the complete use of its capacity in 12-18 months, he said. Saakashvili believes agricultural production can increase 5-6 times during this period.
Some 150 million lari will be added to the 69 million lari issued by the 2011 state budget (1.72 lari is $1).
/
Trend
/