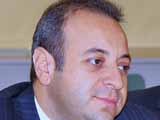 Turkish State Minister & Chief Negotiator for EU talks Egemen Bagis said that Turkey was an important example of combining Islamic culture with democracy, Anadolu News Agency reported.
Speaking at a conference in Istanbul on Friday, Bagis said that Turkey was making 60% of its foreign trade with Europe, and Turkey had been in Customs Union since 1960s. He added that age average in Europe was 42-43, while Turkey had a young and dynamic population, and the economic growth in Turkey was based on a very long-term.
Bagis said that although Turkey was on an important position in the aspect of Europe's energy resources, it could not open energy chapter heading in the membership negotiations with the EU.
Noting that Turkey was a source of inspiration for Muslim countries, Bagis said that Turkey's military power was one of the most important forces of Europe. He added that Turkey was important for Europe as much as Europe was important for Turkey.
Bagis said that the EU acquis was very important for Turkey, adding that Turkey fulfilled all criteria.
Noting that visa system implemented against Turkey was an important problem, Bagis said that even citizens of second world countries could enter Europe without visa but Turkish citizens, especially businessmen, were faced with a visa problem.
Bagis also stressed that Turkey could not have the required cooperation from Europe in fight against terrorism, and said that Turkey fully supported the fight against al-Qaeda but PKK terrorists were released when they were arrested in Europe.
Noting that Cyprus issue was also an important obstacle in Turkey's EU membership process, Bagis said that a reasonable solution should be found in Cyprus issue, and Cyprus should not be presented as a problem and a condition to Turkey.
/
Trend
/