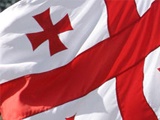 The European Neighbourhood Policy Action Plan for 2011 was approved in Georgia.
A meeting of the State Commission on EU integration has been held in the governmental chancellery today.
A report for 2010 was also considered.
The Georgian government successfully implemented the measures within the European Neighbourhood Policy plan for 2010, Giorgi Baramidze, State Minister of Georgia for integration into European and Euro-Atlantic structures said.
"The European Neighbourhood Policy plan for 2011, which includes the reforms in different spheres - the rule of law, as well as energy, transport, education and others, was formed under the coordination of the state minister's office, " Baramidze said.
/
Trend
/