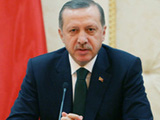 Turkish Prime Minister Recep Tayyip Erdogan said on Friday that Turkey almost stopped unplanned urbanization problem in Turkey, Anadolu News Agency reported.
Addressing the opening of Housing Convention organized by Housing Administration of Turkey (TOKI), Erdogan said, "every child and person have the right to have better living conditions, houses, streets and districts. Turkish government is exerting efforts to achieve this target."
Referring to "shanty houses" in Turkey, Erdogan said, "this is not a process but consequence. We should change Istanbul. We are no more allowing unplanned urbanization."
Erdogan said construction sector contributed a lot to record growth of Turkey in the past 8 years. "Construction sector has undertaken very important duties both inside and outside the country and concluded them successfully. There are currently 33 Turkish companies in contracting services abroad," he said.
Erdogan said TOKI constructed 483,000 houses, "this is a new way of living, a new life and embracing dreams. This means generations looking at future in confidence," he added.
Erdogan said from now on they would be trying to construct houses and cities resistant against quakes and natural disasters.
TOKI brought together urban renewal experts from across the world in Istanbul at an international convention. The Housing Convention 2011 hosts experts and high level officials from 31 countries, most of which have cooperation agreements with TOKI.
TOKI in an earlier statement said the convention would allow a gathering of experts representing distinct yet related disciplines such as architecture, engineering, culture, regional policy, art, city planning, construction, environment, ecosystem, geology and meteorology. The event will give them the chance to pool their ideas and opinions in this two-day meeting.
TOKI shares its experiences with participants and discuss ways to pile up housing policies on an international network. The convention will also focus on squatting, illegal housing, urban poverty, efficient use of public resources, urban planning and management of urban infrastructure.
/
Trend
/