German Siemens eager to manufacture high speed trains in Turkey, feasibility studies were underway.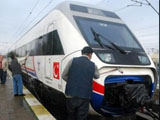 The director of Siemens Turkey's high speed trains department said on Thursday that Siemens was eager to manufacture high speed trains in Turkey.
Speaking to AA at the Eurasia Rail Rolling Stock, Infrastructure & Logistics Fair in Ankara, Siemens Turkey's Cuneyt Genc said that Siemens was the first company that had manufactured electric train sets, moreover, it currently manufactured the fastest high speed trains in the sector.
Pointing to the investments made in Turkey's railway network since 2000, Genc said investments conducted in railways last year exceeded the investments in land transportation.
Genc said production of high speed trains required high technology, adding that Siemens manufactured trains according to the geographical and climate conditions of every country.
Noting that Siemens had participated in the light rail system projects in Ankara and Bursa, Genc said the company had also carried out the modernization of the signalization process of the subway network in Istanbul.
"We are now eager to manufacture high speed trains in Turkey. We can adapt Siemens' fastest train Valero, which has a maximum speed of 400 km/h, to Turkey. Siemens can allocate 50 million Euros for such project," he said.
Genc also said feasibility studies were underway for a new network of nearly 2,000 km in Turkey, adding that Siemens desired to take part in these projects as well.
/World Bulletin/