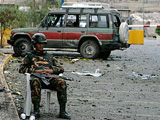 Iran has lifted all restrictions on fuel supplies to Afghanistan in response to the Afghan government's declaration that it will not provide the fuel to NATO troops stationed in the country.
The Afghan ambassador to Tehran thanked the Islamic Republic for allowing the transfer of fuel to the country and promised that Iranian supplies would only be used by the Afghan people.
Ambassador Obaidullah Obaid also stated that Kabul wants to maintain friendly relations with Tehran. Iran had restricted fuel deliveries to Afghanistan after discovering that some of the fuel transited to the country was being supplied to the US-led foreign forces.
Earlier this month, the Iranian ambassador to Kabul, Fada Hossein Maleki, voiced concern about reports that fuel consignments sent to Afghanistan were being delivered to NATO troops.
Since March 2010, about 17,000 tankers of fuel - carrying about 400 tons of fuel - have been transited through Iran to Afghanistan.
Iran has been a transit route for delivering fuel from Iraq and Turkmenistan to Afghanistan. On Monday, the Afghan finance minister signed a memorandum of understanding with Iran to improve cross-border trade.
Afghan Finance Minister Omar Zakhilwal told AP that the two countries have agreed to expand business, trade, and the transit of goods over their common border.



/Press TV/