Turkish Foreign Ministry stated on Sunday that Turkey would send two more planes to Egypt for the evacuation of Turks in that country.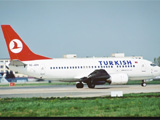 Earlier in the day, the ministry said that Turkish Airlines (THY) sent three planes to Cairo and Alexandria to evacuate the Turks from Egypt where protests against the country's president were still continuing.
Upon intensive demand of Turkish citizens in Egypt, the number of planes Turkey sending to Egypt was increased to five, noted the ministry.
The ministry said that the three planes, which were previously sent, landed in Cairo and Alexandria, and citizens were boarding.
More than 100 people have been killed in protests that erupted in Egypt over the past week against President Hosni Mubarak's rule.
/World Bulletin/