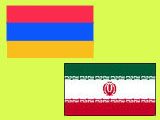 Iranian Oil Minister Massoud Mirkazemi says Tehran and Yerevan have agreed to construct a pipeline to transfer Iranian oil products to Armenia.
Mirkazemi made the remarks on the sidelines of a meeting with visiting Armenian Minister of Energy and Natural Resources Armen Movsisyan on Saturday, Iran oil ministry's official website Shana reported.
The Iranian minister said the pipeline will begin from the northwestern city of Tabriz and stretch toward the Armenian border, noting that it can help Armenia meet parts of its needs for oil products from the Islamic Republic.
Mirkazemi did not elaborate on the details of the agreement, saying the volume and the value of the exports of oil products will be finalized during a meeting in the near future.
Earlier in the day, Movsisyan met with Iran's caretaker Foreign Minister Ali Akbar Salehi and discussed the construction of a railroad linking the neighboring countries.
"Iran and Armenia do not have any political problems and this provides good grounds for expanding ties in different fields," Movsisyan said, calling for boosting ties between the private sectors of the two states.
/Press TV/